What you need to know to join a big corporation
Land a corporate career and shine in your first month
This book is for people with ambition that want to join a big corporation and to make it their career.
Working for a corporation can be very rewarding financially and professionally. You could find yourself working with very bright people from all over the world and gaining experiences that change your perspective on life. Big corporates continue to offer permanent contracts, training, overseas experience and the opportunity to increase your starting compensation 10 times.
Read inside advice on how to find a job with a corporation, what to expect in your first month and how to prepare yourself for a long term career.
This book covers how to join as a:
Fresh graduate
Junior (1-2 years)
Professional
Any previous employment is unlikely to have prepared you for the working culture at a big corporation. A multinational corporation may have more than 200,000 employees globally, with offices in every major city across the world. Its corporate culture is a closed environment with a structure and rules that are not known outside.
There will be a lot to learn to navigate the organization while at the same time meeting your daily responsibilities. Like you, everyone who joins a major corporation wants to succeed. The rewards are high and so is the competition. The corporations themselves won't teach you how to succeed and therefore the difference between a successful career and a frustrating early departure will depend on how well you can find out this information for yourself. This book will help you.
In this book are key lessons on how to select a corporation, how to get hired and what corporate life will be like when you get there. If you have no work experience, or only have experience in smaller companies then this book will help you close the experience gap and prepare you for a long and successful career.
Once you are employed this book will help answer to questions such as:
Who is your real boss?
What to do in your first month?
How long should you work each day?
Who to make friends with.
All the explanations in this book come from the practical experiences of real people who have joined corporations and had successful corporate careers spanning twenty to thirty years. I will share years of knowledge, facts, and inside advice with you to help get your corporate career kick-started.
Most career advice in corporate books focuses on choosing the role you want to do (e.g. doctor or lawyer). In my experience, it is equally important to know about the type of organization you are going to work in. This book will help you gain the inside track and boost your career.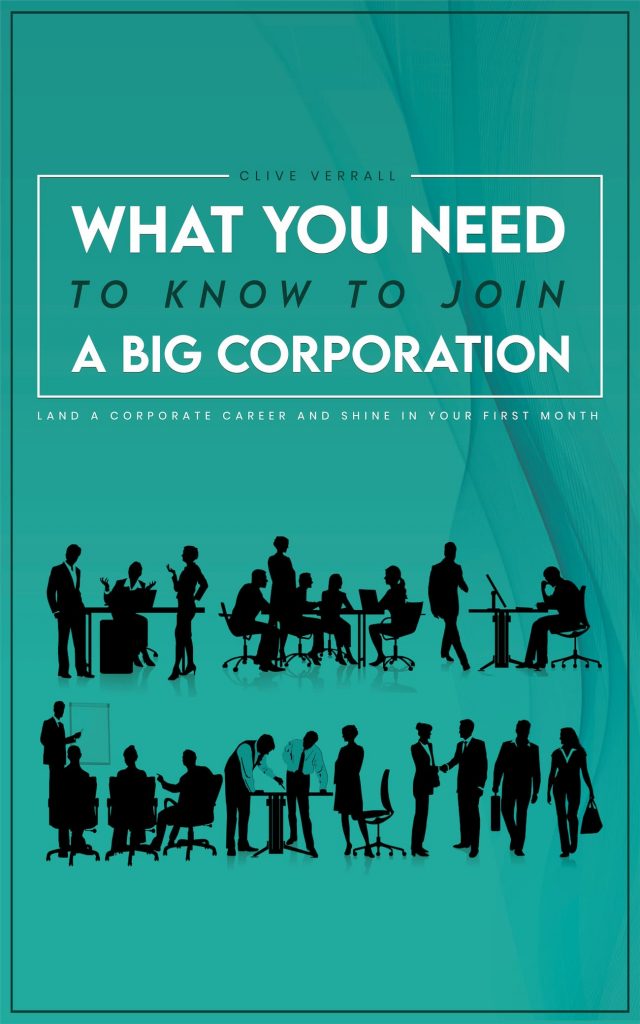 When you have read this then you might want to prepare yourself for going to the next level with this book.