Inside Information Technology at a Top Tier Investment Bank
Could you make a successful and rewarding career in Investment Banking IT? You may know about IT systems, but each business area is different. How does IT in Investment Banking really work? What are the essential concepts and the critical IT systems that anyone would need to know to be successful and to continue to be valuable to an investment bank?
This book is aimed at every IT professional who wants to increase their understanding of the rewarding world of investment banking IT. It will be of benefit both to people who are starting out in this area and it will also be useful to those who already have experience in some area of investment banking and want to get a wider understanding of the subject to land a bigger role.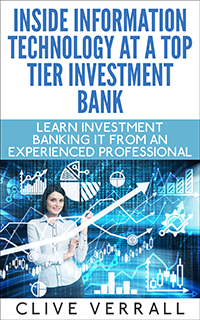 Investment banking is a complicated collection of subjects. Therefore it will be no surprise that the IT systems built for investment banking can also be complicated and are often implemented only by people who have an in-depth understanding of a particular niche of the investment banking business for which the system is needed. This in-depth knowledge takes years to accumulate and as a result IT staff with that knowledge are hard to find and are well paid. This makes it difficult for new comers to break into this large and still growing Information Technology area or even to switch domains within a bank once they have already started. In this book I will share my experiences gained over more than 20 years, and the experiences of my close confidents, to fast track the reader's career.
Throughout the book investment banking activities are explained in the context of what their demands on the IT department are. For each activity area this includes looking at system diversity, IT team sizes, IT process maturity, technologies used, key IT roles and whether advanced mathematical skills are needed.